Can We Turn Back the War on Women?
The Virginia woman's hand-made sign summed it up: "I Can't
Believe I'm Still Having to Protest This Shit!" The pro-choice majority is
astounded by the tidal wave of vitriolic attacks on reproductive health,
rights, justice, and on women's dignity, that constitute the War on Women.
These include legislative proposals mandating intrusive and humiliating vaginal
ultrasounds with no therapeutic justification before permitting abortion; Rick
Santorum's advice that rape victims should celebrate a resulting pregnancy as a
blessing; and debates on covering contraception, which is used almost
universally. Transforming outrage into decisive policy and political victories
requires understanding what is coming at us (and why), and new approaches to
seizing the initiative.
Right-wing corporate interests provide generous financial
support to organizations and candidates that advance their minority views
through powerful institutions, from judicial appointments to gerrymandered
state and federal legislative districts. The policy goal is to undermine the ability
of government and popular movements to constrain corporate power and profits.
Campaigns on so-called "social issues" divide people into competing and
hostile constituencies by gender or religion, although they may, in fact, share
economic interests. The campaigns also recast as "tyranny" government
actions that protect human rights and challenge corporate power. Fundamentalist
religious groups, allied with the Catholic Church, provide an institutional
base for crafting and disseminating policies that advance these divisive views,
which find fertile territory during economic and social transition.
Demonizing abortion has been a winning card for the
right, which has stated its intention to use abortion as a wedge issue in the
2012 election. Until now, mainstream women's groups and progressive politicians
have struggled to find a winning constituency and effective messages, since
most voters say they care more about the economy than reproductive rights.
Changing the discourse will require intentional solidarity across age, class,
and race. Generations have come of age assuming the legal right to birth
control and abortion, and the related rights to self-determination, while
attacks on access have targeted vulnerable and disenfranchised women, who are
less likely voters. Absent an affirmative strategy, attacks on abortion from
strident opponents like the U.S. Conference of Catholic Bishops have achieved
incremental erosions in access to abortion. The 2010 Affordable Care Act was
both an example and a wake-up call. While offering women many benefits,
coverage for reproductive health care was compromised.
The Trust Women/Silver Ribbon Campaign (TW/SR) is one of
several groups that have emerged to increase the visibility and voice of
advocates for reproductive health, rights, and justice. TW/SR organized a
display of banners with pro-choice messages that flew proudly along San
Francisco's main street in January, 2012, designed to project solidarity and
power through visibility, and to commemorate Roe v. Wade's anniversary. TW/SR
also brought together 81 groups (including NWHN) to send pro-choice messages to
Congress via a massive online virtual "march" from January 20-27. The
banner messages ranged in tone and generational appeal and included: San Francisco
is Pro-Choice, Her Health Her Decision, Fix the
Economy, Support My Autonomy, and US Out of My Uterus.
Online messages with links to background information included: I trust women
and I vote, Contraception Is Prevention, Keep abortion safe and legal,
and make it accessible and affordable, and We are the
99%. Fix the economy, and stop the war on women.
The base-building has burst into action. In January,
Planned Parenthood Federation of America (PPFA) revealed that the Susan G.
Komen Foundation would no longer fund PPFA's breast cancer services, due to
Komen officials' opposition to PPFA's abortion services. The dam broke, as
women erupted in outrage. Finally, women elected officials are now campaigning
openly for and with women. While the bewildered right wing continues to march
backwards on auto-pilot, we stand a good chance of hastening its path to
oblivion.
Online and virtual advocacy are proving to be powerful
tools for spreading news, articulating opinions, and generating unity. We're
still exploring how to use these tools to create and sustain connectedness and
engagement among organizations and their members, and to motivate effective
action. Recognizing that organizations will continue to compete for media,
resources, and policy influence, we must aim to develop better collaborative
models.
Going forward, we can claim our democratic heritage of
freedom from religious persecution. The Bishops are campaigning for the power
of Catholic-owned corporations to deny contraceptive coverage to millions of
employees in its hospitals, schools, and charities. Giving the Church and state
legislatures the right to invade couples' privacy and women's bodies is
offensive to many. The link to oppressive and anti-democratic maneuvers like
voter suppression rules is notable, including by its intended victims.
Mississippi's fetal personhood ballot initiative lost decisively by 42% to 58%,
and the highest percent of "no" votes came from Black men and
pro-choice voters at 80%, followed by Black women at 70%. This suggests the
possibilities for cross-cutting alliances in the interest of freedom.
While the opposition has a game plan, it's the wrong one.
It doesn't represent the majority, and it's on the wrong side of history. As
younger generations shed social prejudices and constraints, the influence of
attack dogs like Limbaugh is destined to shrivel. In response, pro-choice
advocates can build power by increasing our ability to mobilize our majority
base and collaborate with allies for social and economic justice.
Ellen Shaffer is the Co-Director of the Trust
Women/Silver Ribbon campaign, which is building
towards the 40th Anniversary of Roe v. Wade in January 2013. The banners and
related information can be viewed at www.oursilverribbon.org
See this article
also in The Women's Health Activist, May 2012: http://nwhn.org/newsletter/node/1397
Posted: 6-03-2012
Video: Nancy Pelosi and Women Fight for Affordable Health Care
Women's History Month Rally Celebrating the 2nd Anniversary of the Affordable Care Act with Honored Guest Leader Nancy Pelosi
House Minority Leader Nancy Pelosi and women's health leaders celebrated the 2nd anniversary of the Affordable Care Act at a rally at the San Francisco Women's Building on March 23.  See a short clip here:
http://www.youtube.com/watch?v=MHc2jeh3-R4
Speakers:  Amiee Allison, SF Dept. on the Status of Women; Ellen R. Shaffer, PhD, Co-Director, EQUAL Health Network; Dr. Nadine Burke Harris, Founder, Center for Youth Wellness,    Janet Clyde, Owner, Vesuvio & past San Francisco Small Business Commission member; Amanda Selich, Student, City College of San Francisco
Affordable Care Act benefits available NOW:
«    Preventive care without co-pays or deductibles.
«    End of lifetime limits on insurance coverage.
«    Covers children with pre-existing conditions.
«    Young adults under age 26 remain on parents' health insurance policy.
«    Rebate from Medicare for prescription drugs' "doughnut hole".
«    Tax break for small business owners buying health insurance.
BEGINNING AUGUST 2012
Coverage for women's preventive care services without co-pays or deductibles for:
«    Contraception and well-woman visits.
«    Screening  counseling for HIV, domestic violence, sexually-transmitted infections &  breastfeeding.
BEGINNING 2014
«    Coverage for over 8 million uninsured women through expanded Medicaid.
«    11 million women with family income to $88,000/yr eligible for substantial health insurance subsidies.
«    Women can't be turned away for pre-existing conditions or charged more because they are women.
Her editorial on the topic appeared in the San Francisco Chronicle last Friday. Click here to read it.
Event Sponsors: EQUAL Health Network, Access/Raising Women's Voices, Alliance for Retired Americans, Breast Cancer Action, CA Family Health Council, CA Pan Ethnic Health Network, CPHA-N, CA Women's Agenda, Children Now, City College of SF/Women's Studies, Democratic Women's Forum, Glide Health Services, Health Access, Healthy SF, Hospital Council of Northern & Central CA, Mission Neighborhood Health Center, MomsRising, National Physicians Alliance, National Women's Law Center, Physicians for Reproductive Choice and Health, Planning for Elders, Planned Parenthood Shasta Pacific, SF Breastfeeding Promotion Coalition, SF Community Clinic Consortium, SF Democratic Women in Action, SF Dept. of Public Health, SF Dept. on the Status of Women, SF Health Plan, SF NOW, SF Older Women's League, SF Small Business Commission, SF Women's Political Committee, Senior Action Network, Silver Ribbon Campaign to Trust Women, Women's Intercultural Network, U.S. Positive Women's Network/WORLD, Women's Building of SF       Contact: ershaffer@equalhealth.info
Posted: 3-28-2012
NOW! March Online for Repro Rights, Justice
From January 20 to 27,  join the first-ever "Trust Women Week," an online mass mobilization for women's lives and rights. The Trust Women/Silver Ribbon Campaign is the coordinating partner in this unique collaborative campaign, working with MoveOn.org and more than 50 organizations nationwide, to let legislators know that reproductive health, reproductive justice and reproductive rights are at the top of our agenda, and should be at the top of theirs.
In this collaborative national action, your messages as "virtual marchers"  will be packaged and delivered directly to members of Congress, governors and state legislators to underscore
that Americans trust women to make their own decisions about their bodies and their lives.
Online participants may select up to six tailored messages:
1. "I trust women and I vote;"
2. "Reproductive rights are human rights;"
3. "Keep abortion safe and legal, and make it affordable and
accessible;"
4. "Stand up and be counted for reproductive justice;"
5. "We are the 99%. Fix the economy, and stop the attacks on
women's health;"
6. "Contraception Is Prevention."
Join in this virtual freedom march, and you'll see your participation on a real-time online map. Your participation is essential to this effort, so thanks for your support!
Click here  to join the March!
Trust Women Week overlaps the 39th anniversary of Roe v. Wade and reasserts our firm commitment to reclaiming the future of reproductive decision-making in 2012.
Thanks again for your support
Posted: 1-20-2012
Target: Abortion Clinics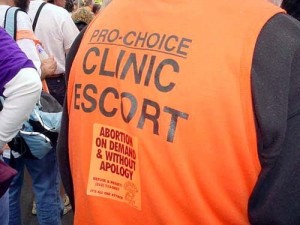 Why isn't pro-life terrorism treated as…terrorism, asks Kaili Joy Gray in the Daily Kos under the headline "Another day, another 'pro-life' terrorist bombs an abortion clinic".
"It's almost hard to get worked up about stories like this, when they're so damned common. Bombs thrown, buildings burned, car tires slashed, patients stalked, doctors assassinated … You can look at the statistics. You can read about the thousands of acts of violence and tens of thousands of acts of "non-violent" terrorism against health care providers and their staff and their patients and their landlords and their landlords' children. It's all part of the "pro-life" movement to save the fetuses. And hey, if some property, or some people, have to get hurt, well, that's a fair price to pay."
Sadly, those attacks are common. The National Abortion Federation has published a sobering chart about these acts of violence in the past decades and the killings of doctors who perform abortions.
Andrea Stone raises in The Huffington Post another reason for concern: Attacks against abortion clinics are not included in the Government's main terrorism database.
"[...] missing among the [terrorism] statistics are numerous cases of anti-abortion violence in the United States, an omission that raises questions about what defines terrorism and underscores how sensitive the issue of reproductive rights remains — even when dealing with statistics. A search of "abortion" in the Worldwide Incidents Tracking System, a database created after the 9/11 terrorist attacks by the National Counterterrorism Center, brings up just two abortion-related incidents — one of them in Nepal. Though the database includes the 2009 murder of prominent abortion doctor George Tiller by an anti-abortion extremist, it is effectively whitewashed, making no reference to abortion in the entire entry. In the summary, Tiller is described merely as a "medical doctor," even though he and his clinic had been a target of anti-abortion activists for years."
Posted: 1-17-2012
What the Anti-Choice Movement Will Do Next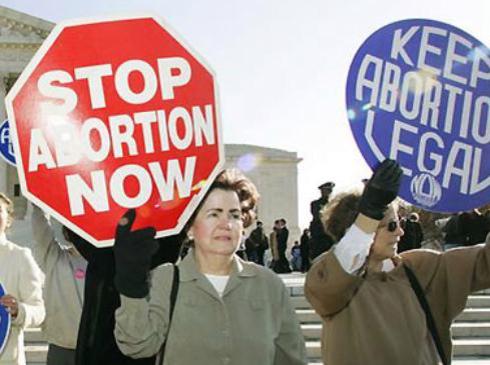 Here is a list of the "5 Dirty Tricks Right-Wing Zealots Will Likely Try Next in Their Battle to Control Women" by Amanda Marcotte (via AlterNet), and she concludes that there hasn't been "a more sustained assault on women's rights in recent memory as what we saw in 2011."
"The anti-choice movement showed its true face in 2011. No longer can liberals believe that anti-choicers are just goofy but well-meaning fetus worshippers. Now it's undeniable that they are mainly an anti-feminist movement that attacks women's rights because they want to roll back all of the gains women have made in recent decades. Showing their true face has helped educate and mobilize people who were pro-choice but unaware of how serious the situation really is. Now that we know, perhaps 2012 can be the year we double down on fighting back."
Tanya Somanader writes in Thinkprogress Health about  The GOP's 10 Most Extreme Attacks On A Woman's Right To Choose An Abortion, which include the redefinition of rape, abortion audits and forced ultrasounds to name just a few:
"2011 marked a banner year in the Republican war on woman's health. Close to 1,000 anti-abortion bills sped through state legislatures as the GOP-led House led a "comprehensive and radical assault" on a federal level. But in surveying their arsenal this year, 10 bills stood out as particularly perturbing and far-reaching efforts to stymie women's access to abortion services, birth control, and vital health services like breast cancer screenings." 
Posted: 1-17-2012
Healthcare Coverage and Abortions…
In case you needed a reminder how bleak the situation regarding women's reproductive rights across the United States really is, ACLU provides this interactive map about bans on insurance coverage of abortion in various states.
"In several states, lawmakers are singling out abortion and prohibiting insurance companies from including abortion coverage in their policies. The trend is fast-moving and startling: since 2010, 4 states passed bans on abortion coverage and another 9 banned coverage in their soon-to-be-active exchanges. While alarming, this trend represents a renewed effort to deny women insurance coverage for abortion care. "
Posted: 1-17-2012
We Are All An 11-Year Old Girl – And She Is Pissed!
My commentary from The Huffington Post, "We Are All an 11-year-old Girl — And She Is Pissed" by Ellen R. Shaffer, about Secretary of Health and Human Services, Kathleen Sebelius ' decision to veto the FDA's approval for the over-the-counter emergency contraception (EC) product Plan B One-Step , commonly referred to as "the m0rning-after-pill", without age restriction:
Women are the last remaining voting majority who are treated like a splinter group.  It will stay that way until we stand up for ourselves, together, and demand power.
The Democrats drove us away from the polls in 2010, and they're getting ready to do it again.  It's okay, though.  They need to focus on creating jobs.  We don't want to disturb them with anything controversial.
The Republicans don't care whether or not we experience regret after our abortions.  They want to pump up the fanatic religious extremists who they hope will give them control of the Senate and the White House in 2012.
The pediatricians, gynecologists, and adolescent medicine doctors deplore the decision yesterday by the secretary of Health and Human Services to override:
"An evidence-based decision by the Food and Drug Administration (FDA) to approve an application for over-the-counter access without age restriction to the emergency contraception (EC) product Plan B One-Step.

This move defies the strong data that EC is safe and effective for all females of reproductive age. As advocates for the health and well-being of all young people, the AAP recommends that adolescents postpone sexual activity until they are fully ready for the emotional, physical, and financial consequences of sex," said Robert Block, MD, FAAP, American Academy of Pediatrics president.
"However, as physicians who care for our nation's children, it is our responsibility to protect the health of our teenage patients, and an unintended pregnancy can have significant implications for adolescents' physical and emotional health."
Presumably Sec. Sebelius was following orders from her boss, already jittery because the U.S. Conference of Catholic Bishops is offended that HHS has had the temerity to acknowledge that contraception is a preventive medical service, and should be covered without additional co-payments just like pap smears.
You can join lots of important efforts to call the White House or sign petitions, including sites for NARAL, the National Women's Health Network, and the Feminist Majority.
Maybe, also, we can snatch some tactics from AIDS activists. Maybe we need to start bird-dogging policy-makers who have difficulty living up to their promises.  And working in communities where people don't have jobs are being convinced to turn their anger against women who don't have rights.
Posted: 1-17-2012
The Republican Candidates on Abortion

The New York Times has a break down of  the Republican Presidential Candidates' views on abortion, which is an eye-opener.
Rick Santorum has emerged as having the most extreme views on reproductive rights:
"To put rape or incest victims through another trauma of an abortion, I think is too much to ask."  (Aug. 11, 2011, The New York Times)

"One of the things I will talk about, that no president has talked about before, is I think the dangers of contraception in this country."  [...]  "Many of the Christian faith have said, well, that's okay, contraception is okay. It's not okay. It's a license to do things in a sexual realm that is counter to how things are supposed to be." (Rick Santorum, quoted in Slate on Jan. 4, 2012)
More than that: Santorum is only pro choice when it comes to himself.  Case in point, Trust Women/SR's Ellen Shaffer blogged here, in "Santorum: Our Abortion Was Different:" "Rick Santorum is one dangerously confused denialist." Jezebel's revealing article "Rick Santorum's Anti-Abortion Politics Would Have Killed His Own Wife" also noted: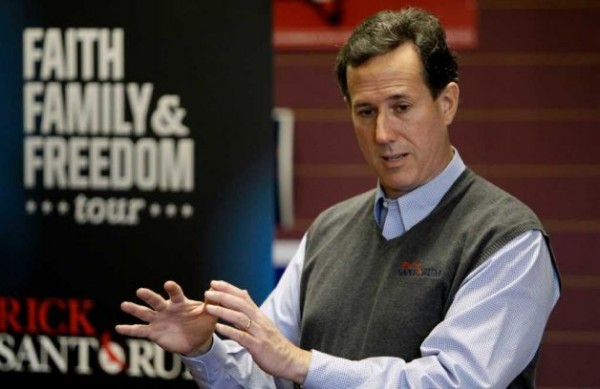 "Mr. Ban Abortion in All Circumstances With No Exception for the Life of the Mother, believes that the actions of his own wife should be treated as criminal. Why? Because, back in 1996, his wife had a procedure that resulted in the deliberate death of her fetus, even though it was a matter of saving her own life."
In its Jan. 8, 2012, editorial "Republicans Versus Reproductive Rights," The New York Times sums up the Republican presidential candidates' views:
"The Republican field is united in its determination to overturn Roe v. Wade; to appoint Supreme Court justices supportive of that goal; and to end government payments to Planned Parenthood for family planning services, cancer screening and other vital health services provided to low-income women."
Posted: 1-16-2012
2011: A Bad Year for Reproductive Rights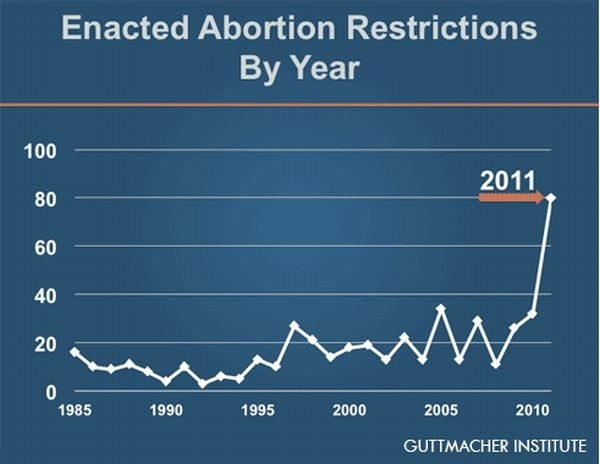 According to an article in The Economist titled "Unintended Issues,"
"Last year saw a surge in social conservatism. It has been said that social issues inspire Americans to vote against their economic interests: a factory worker elects an anti-abortion Republican; in return he gets anti-union laws. Last year the adage was reversed. In 2010 Americans voted for economic austerity; in 2011 they got abortion restrictions. For those who oppose abortion, it was the most promising year in decades."
Sarah Kliff wrote in The Washington Post under the headline " The year of the abortion restrictions,"
"[A] rise in the number of anti-abortion governors and legislators has an enormous impact on the abortion rights landscape, paving the way for laws that could shape access for years to come."
Jezebel posted in its 2011 year in review a sobering account under the headline "The year in your uterus" and concluded:
"It's been a wild year for your uterus, and 2012 promises to be even crazier. We've got a Presidential election to look forward to, and political candidates love to talk about their agenda for your uterus when they try to win votes. Best festoon the thing in red, white, and blue; they've set up camp in your uterus, and they're not going away any time soon."
Posted: 1-16-2012
Banners for Reproductive Justice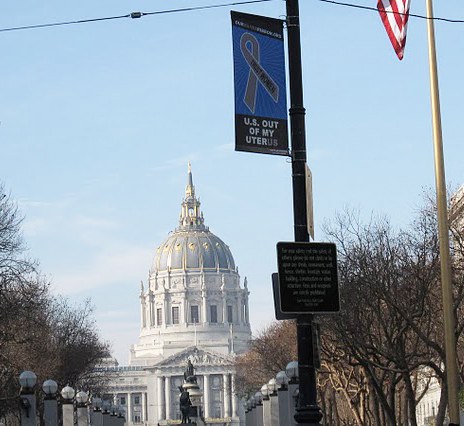 Thanks Feministing for the coverage of our initiative "Banners for Reproductive Justice" on Market St. For those in San Fransisco, please join us for a Walk For Choice on Jan. 22, 2012, 1-3pm to admire the banners — celebrating the 28th anniversary of the historic Roe v. Wade decision that legalized abortion on January 22 — before they take them down at the end of the month. Join us! And please contribute a donation to our campaign.
For more on that initiative, listen to a radio interview with Dr. Sophia Yen, MD, co-founder of the Silver Ribbon Campaign to Trust Women, with Kris Welch on Radio KPFA on Dec. 23.
And here is an article in MS Magazine on the initiative: "In 2012, Trust Women!"
"The official toll from 2011′s War on Women is in. According to the Guttmacher Institute, a record-breaking 92 new state-level restrictions on abortion were passed last year, the most ever. In response, reproductive-rights groups hope to make 2012 the year that women fought back — and won."
Critics of the banner initiative were quick to react: "[The] Life Legal Defense Foundation has demanded that the city remove the offending signage or face the possibility of legal action."
In a statement, Dr. Yen wrote:
"When the House of Representatives votes that it is okay for doctors to allow pregnant women to die in the emergency room rather than perform an abortion, it's time for women to wake up and fight back.  As a mother and a pediatrician who specializes in adolescent medicine, I want to insure that my patients and my own daughters continue to enjoy the right to plan their families and pursue their career goals," she said. "For women, that means protecting and expanding reproductive rights."
Also the Huffington Post has coverage of our initiative: "Silver Ribbon Campaign To Trust Women: Market Street Banners Advocate Reproductive Rights" and it covers the vehement opposition to the banners by pro-life groups under the headline "San Francisco Abortion Ads Draw Ire Of Pro-Life Group":
"The campaign marks the first time in San Francisco history that the city has displayed banners advocating reproductive rights, [but the] series of pro-choice banners posted on city-operated utility poles running up and down San Francisco's Market Street have drawn the ire of an anti-abortion group. Life Legal Defense Foundation has demanded that the city remove the offending signage or face the possibility of legal action."
Posted: 1-16-2012